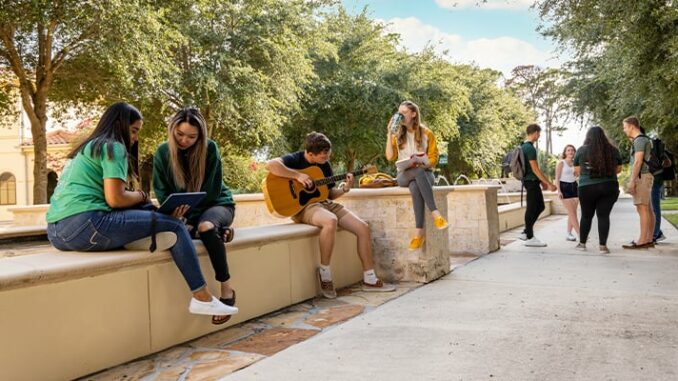 It may be your first year or last one at college, it doesn't matter. When it comes to returning to school after a long break everyone will feel a bit lost on their first day, or even longer. From finding classes to making new friends – college is a great experience, but can sometimes be overwhelming. But, don't worry! As long as you have your smartphone with you, you will never get lost, be bored, or forget something. Check out these essential apps for getting back to college.
18 Essential Apps For Getting Back To College
Social Apps
This app does an amazing job when you are meeting a friend or a group of friends. You will never have to call your friend to let him know you are running late and you won't have to worry about missing a call if someone is running late. When you and your friends connect with R We Still On Time, you can let each other know whether you will come on time, come early, or be late with the click of a button.
Hopspot is a great social app, available both for iOS and Android devices, that allows you to connect with your friends. You may think "So what, I can do that with Facebook." But, this app is different. It only allows you to post your plans and eliminates all the "distractions" you can find on other social media. If you want to go and have a pizza with someone, simply share your plans. Those friends who want to join you will contact you once they see your update. You won't have to text everyone you can think of, asking them to come and join you. In addition, the greatest thing about Hopspot is that it will clear your updates every morning, leaving you with a clean slate.
Eventbrite is an amazing app that lets you know what is going on around you. This means that all local concerts, parties, cheap off-campus activities, and sporting events will be at the touch of your finger once you get this app. You can connect it with your Facebook account to see if any of your friends will be attending a certain event or you can even invite them yourself.
Study/Productivity Apps
Pocket Points is an amazing new app that will reward you for being a good student. It rewards all students for not using their phones during class. All you need to do is open the app, lock your phone, and start earning points. You can exchange the points at local and online businesses for awesome student discounts, coupons, or gifts! Sounds awesome, doesn't it?
iHomework is an iOS app only. Basically, it is a digital assignment book that allows you to organize your schoolwork, assignments, and also set reminders for upcoming tests or quizzes. A good alternative for Android users is My Study Life.
This app is an alarm clock like no other. It will not wake you up when you set the time. Instead, it will track the quality of your sleep and wake you at the least disruptive moment in your sleep cycle. Every night we go through different phases of sleep – from light to deep. The secret to waking up rested and feeling more energetic and alert upon awakening is to wake up during a period of your lightest sleep. The app will create a 30-minute window before the wake-up time you set. In addition, it will notify you if you are sleep deprived.
StudyBlue is a learning app used by more than 7 million people. It allows you to create your digital study notes and share them with other students. In addition, you can access the notes others have shared covering every topic from English to Pilates. You can study anytime and anywhere. The app also features a thumbs up and down button that will help you mark the notes and flashcards you have learnt.
You can save hours by making a works cited page automatically. This app will help you cite your references easily and efficiently. Scan the barcode of the book you used (or enter the info manually), and EasyBib will do the rest for you. It will sort out a bibliography in your choice of MLA, APA, or Chicago-Styled format.
Just because you are an English native speaker, or you study English, it doesn't make you an English master. WordFail will help you learn how to use the most commonly misused words in English. This can help you out when sending out important emails, going to meetings, or creating any important document.
If you want to be more productive, you need to be focused and remove stressors from your life. You will not accomplish much if you're stressed over a deadline or procrastinating. Stop. Breathe & Think promises to offer easy meditation in less than 5 minutes. Meditation will relax you and increase your brain performance.
P.S. If you feel too stressed, check out our 10 Tips To Eliminate Stress From Your Life.
Flash Card Hero is a must-have for any college student. It allows you to import quizzes from Quizlet and add images or book chapters for enhanced studying. Its multiple choice option and audio support are what make it different from other apps. It is available for Windows, Mac, and iPhone.
Budget Apps
Saviry will help you find the best and latest deals on anything you think of in your area. It will display anything from household items, clothes, and even gadgets.
Before you go shopping for groceries, it would be smart to create a grocery list. This way you won't forget anything and you will spend less time shopping once you know what you need. My Super Market will help you with this. You can create your grocery list with this app and it will show you a list of local grocery stores selling it at the lowest price.
You Need A Budget is an app that approaches budgeting and saving money differently than the others. Not only it will help you save money, but also keep a track of every penny you have. You won't have to worry if you accidentally spend the money needed for next week's bills because it will offer you a solution. You Need A Budget team claims that the average user saves over $200 in their first month.
Cooking/Fitness Apps
Cocktail Flow won't help you learn some amazing breakfast recipes, but it will make you the greatest host ever. Basically, this app is a 'definitive cocktail encyclopedia' that lets you find hundreds of drink recipes. It will help you mix drinks with the ingredients you have, and will filter out only recipes available with those ingredients. Your friends will be amazed whenever they come over.
If you want to lead a healthy lifestyle, then Fooducate is the app you have been searching for. You can set a weight loss, fitness, or health goal, and then track your daily food intake and physical activity with this app. Also, you can find some yummy recipes with the app.
If you are into working out, Sworkit will help you workout anywhere for any amount of time. You can customize your workouts fully and add music to your workouts through Spotify. You don't need any equipment to perform the exercises featured on the app. Video demonstrations by real trainers and verbal instructions will help you out if you get stuck.
Cheftap is an amazing app that lets you save any recipe you come across on the internet. All the recipes will be in one place and ready for use whenever you need them. The app also allows you to edit and tweak all your recipes and even add pictures.