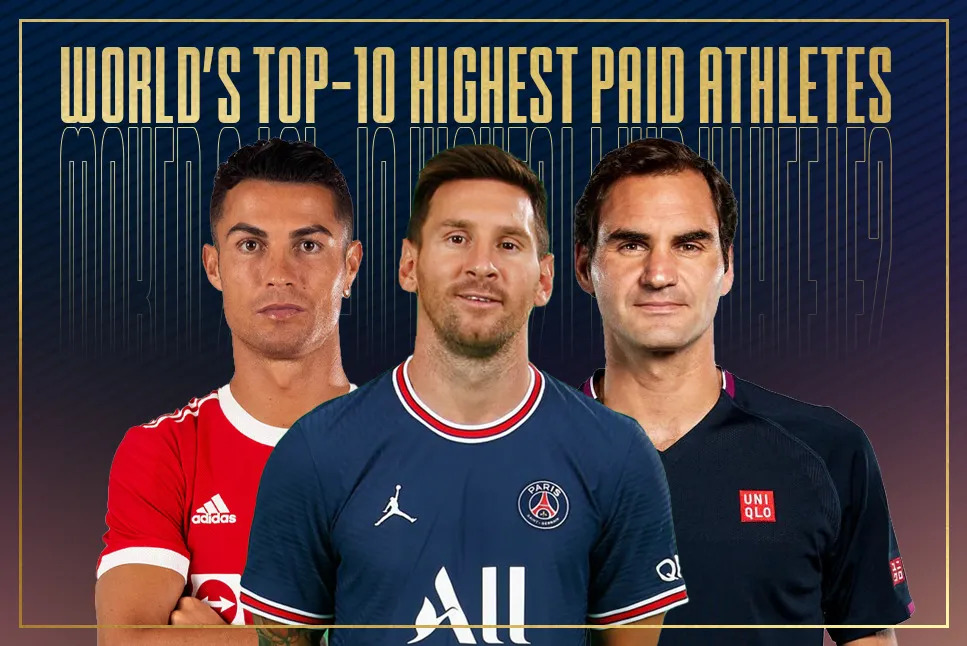 Introduction
The world of sports has evolved into a multi-billion dollar industry, with athletes redefining the concept of success both on and off the field. The pursuit of greatness, unmatched skill, and unparalleled dedication has led these extraordinary athletes to not just win championships, but also secure top spots on the list of the highest-paid athletes globally. In this article, we delve into the lives and achievements of the top 10 highest-paid athletes, who have not only mastered their respective sports but have also become global icons in the process.
1. Lionel Messi
Lionel Messi, often regarded as one of the greatest footballers of all time, stands tall at the summit of the highest-paid athletes list. The Argentine superstar, during his illustrious career at Barcelona and later at Paris Saint-Germain (PSG), has amassed an impressive fortune through his lucrative contracts and endorsements with major brands like Adidas and Pepsi. Messi's annual earnings consistently soar into the tens of millions, making him an unsurprising chart-topper.
2. Cristiano Ronaldo
In close pursuit of Messi is his long-time rival and equally exceptional footballer, Cristiano Ronaldo. The Portuguese forward's mesmerizing skills have made him a sensation on and off the field. Ronaldo's staggering earnings are a result of his exceptional performance on the pitch and lucrative sponsorship deals with companies like Nike and Clear.
3. Conor McGregor
Mixed Martial Arts (MMA) has its representative in the top 10 highest-paid athletes, and that's none other than Conor McGregor. The Irish fighter has become a global phenomenon, with his charisma attracting a vast audience. McGregor's earnings come from his successful UFC career, prize money, and numerous endorsements.
4. LeBron James
LeBron James, the undisputed NBA superstar, has not only redefined basketball excellence but also proven himself to be a shrewd businessman. LeBron's earnings are a combination of his massive NBA contracts and flourishing investments in media, fashion, and entertainment. His deals with Nike and Beats by Dre further bolster his financial prowess.
5. Neymar Jr.
Another football icon from Brazil, Neymar Jr., is known for his extraordinary flair and skill on the pitch. His staggering transfer fees from Barcelona to PSG made headlines, and his endorsements with major brands like Nike and Red Bull contribute significantly to his earnings.
6. Roger Federer
Tennis royalty, Roger Federer, remains a dominant force in the sport even in the twilight of his career. His elegance on the court and gentlemanly demeanor off it have earned him a devoted global following. Federer's earnings stem from his impressive tennis winnings and a slew of high-profile endorsements with companies like Rolex and Mercedes.
7. Lewis Hamilton
Formula 1 racing has its representative on this list, and it's none other than Lewis Hamilton. The British driver has made history by securing multiple world championships and has become an influential advocate for social and environmental causes. Hamilton's lucrative contract with Mercedes and endorsements with Tommy Hilfiger and Puma propel him into the top 10.
8. Tom Brady
American football legend Tom Brady continues to defy age and records, becoming one of the most successful quarterbacks in the history of the sport. His lucrative contract with the Tampa Bay Buccaneers and endorsement deals with brands like Under Armour and UGG have contributed to his impressive earnings.
9. Kevin Durant
Kevin Durant, one of the finest basketball players of his generation, has achieved incredible success both in the NBA and on the global stage. His endorsement deals with companies like Nike and investments in tech startups have propelled him to the ranks of the highest-paid athletes.
10. Stephen Curry
Stephen Curry, the three-point maestro and face of the Golden State Warriors, rounds off our list. Curry's unparalleled shooting abilities and entertaining style of play have garnered him a massive fanbase and several endorsement deals with major brands like Under Armour and Chase.
Conclusion
The top 10 highest-paid athletes have demonstrated that their dominance isn't confined to their respective sports; they are global superstars who have transcended boundaries and become icons in popular culture. With their phenomenal performances on the field and strategic business ventures off it, these athletes have set a new benchmark for success and inspired generations to come. As the sports industry continues to grow, we can expect more remarkable athletes to join this prestigious list in the future.