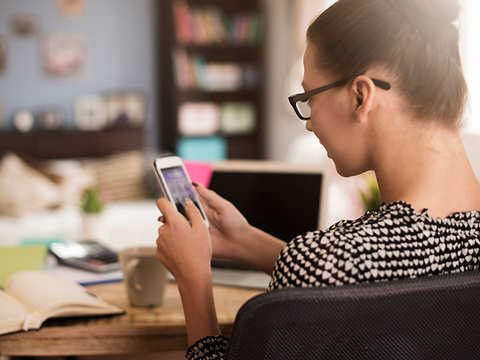 Nowadays, people blame smartphones for many ills. One of the most negative sides of using a smartphone is that people become too dependent on them, disconnected from the world and self-absorbed with their own social media lives. This applies to teenagers especially. However, besides these negative sides there are also positive sides.
We are not aware how much smartphones have expanded our productivity. Rather than waste time, smartphones can speed up certain processes and tasks and help us become more productive than ever. It all depends on us and how we choose to use our smartphones. Keep reading to find out how to use your smartphone to be more productive.
5 Ways You Can Use Your Smartphone To Be More Productive
1. Work From Anywhere
If you have a smartphone then it is very likely that you are familiar with mobile data. Your smartphone allows you to work and access your files via cloud storage. For example, Google Drive, which is available both on the iPhone and Android, allows you to create, edit, share, and access your documents. And, you can do all of this while you are on the go, without waiting for a computer or WiFi access.
In addition, there are so many other apps which allow you to keep large files and notes without worrying about your memory or the device data was stored on. Try out Evernote or Dropbox and your life will become easier. Your smartphone can help bridge the gap between workspaces by keeping you ready to open and work on any file or document on the fly.
2. Lighten Your Load
Remember those times when you had to write crucial information down on a piece of paper. Then, you would carry that paper around and try not to loose it. As time went by, the amount of those papers would grow and you would end up with a large bulk in your wallet or your purse. Luckily, smartphones are here to save the day.
Instead of copying down info, you can simply take a photo or write down a quick note. Instead of collecting business cards, simply add that person to your contact list. You don't even have to carry your cash or credit cards around; use your smartphone as a payment device via apps like Squarecash, Venmo, Apple Pay and Google Wallet. Chances are there is an app for whatever you need. And, you don't have to be afraid of losing small pieces of paper anymore.
3. Plan Everything
If you have a smartphone, you have access to everything you need to plan your day. Need to plan a meeting? Get a calendar app with timed notifications. GPS directions will help you get to all your meetings on time. Want to go to a vacation, a concert, buy a metro ticket, or place a request for an Uber? Once again, use your phone to get these tasks done. You can even place orders for delivery in advance without needing to make a phone call. How awesome is that? Almost every organization, institution, or retailer has their own app or a website that you can access via your smartphone.

4. Stay In The Loop
You can be reached more easily and stay up to date on all your information thanks to the ability to text, call, email, IM, and more. Your smartphone can check for new emails automatically without requiring you to open your email and see if there is anything new. Text messages allow you to communicate with others easily. In addition, you can have multiple conversations at once or have a conversation with more than one person. This will definitely reduce the number of left voicemails and missed calls. Basically, your smartphone will let you know about any updates as soon as they happen.
5. Get Things Done Faster
Let's say your friend's birthday is coming up and you have to think of the perfect birthday gift. Instead of roaming around the mall waiting for an inspiration, simply use your smartphone to search for the perfect gift. Then, you can go and get it by yourself or order it and save even more time. Another example would be planning a dinner. Before smartphones, you would have to call each and every friend and let them know when to come. Now, you can simply send a group message.
A smartphone can make you perform so many tasks faster and make you more productive. With the click of a few buttons, you can switch between apps which are powerful tools. Dictate and record notes, take images and keep up with the latest news wherever you are. If used properly, a smartphone can increase your productivity significantly and prove that technology does not only slow you down.