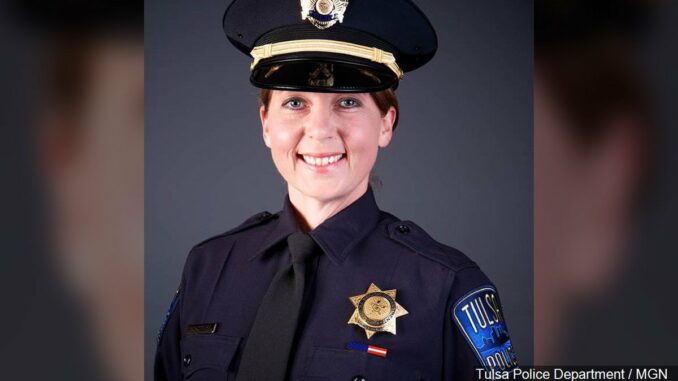 Officers had been called to the scene by passers-by who had reported a vehicle abandoned on the road. "He took off running," a woman told a 911 operator, saying that the man said his vehicle might blow up. She added, "I think he's smoking something."
According to this video from a police helicopter, an officer can be hear referring to Crutcher as a "suspect" even though the situation was called in as a traffic incident. Betty Shelby was one of the officers on the scene, and she decided to shoot Crutcher simply because he did not comply with her "lawful orders." She shot Crutcher once and radioed "Shots fired." At the same time, another officer used Taser on the victim.
After Crutcher was shot, two officers walked to the vehicle to make sure the scene was safe. Then, they backed away leaving Crutcher's body on the floor, without giving him any aid.
Tulsa Police Officer Betty Shelby Charged With Manslaughter
After all the evidence was examined, an arrest warrant was issued for Shelby. She is accused of "unlawfully and unnecessarily" shooting Crutcher after he did not comply with her "lawful orders." The possible conviction for manslaughter in Oklahoma is four years to life.
Attorneys for Crutcher's family said they were "happy charges have been brought" against the officer and they will be seeking a "vigorous prosecution" of this case that results in a conviction. Even Gov. Mary Fallin issued a statement, hoping that the conviction will bring some peace to the Crutcher family. Shelby remains innocent until proven otherwise.
The Crutcher shooting was captured on tape. According to the videos, before he was shot, Crutcher raised his hands above his head. All he did was walk away from Shelby. She was afraid that he wanted to reach for a weapon that was inside the car. However, no weapon was found in the car.