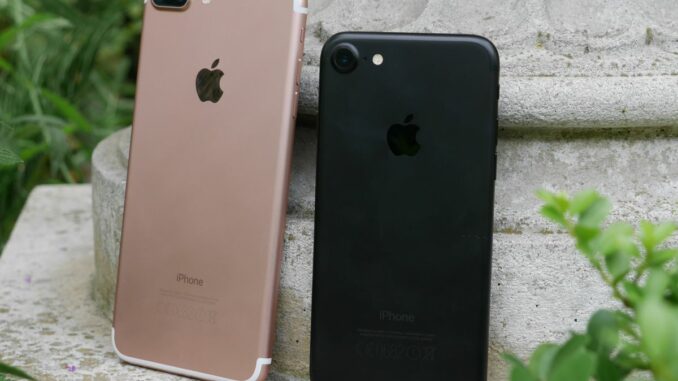 iPhone 7 is finally here and it has been presented at Apple's event on September 7, 2016. Just like every year, Apple continued with their traditional naming structure at the Bill Graham Civic Auditorium in San Francisco, and they introduced the iPhone 7 and the iPhone 7 Plus. We were able to experience the upcoming iOS 10 operating system in beta for the past two months, and the iPhone 7 and 7 Plus will ship with the new OS. However, it was amazing to learn something more about the phones' interesting changes.
Everything You Need To Know About iPhone 7 And 7 Plus
Waterproof Design And Increased Durability
When it comes to iPhone 7 and 7 Plus, they are not a part of the 'major update cycle'. This means that some changes were made, but they are not drastic. However, some new abilities are quite awesome.
One of those new abilities is that the new iPhones can get wet and still keep working. Either of the models can remain underwater for about 30 minutes, up to 1 meter deep. Even though the new design is waterproof (and dust-resistant too!), it is not a ton different than the iPhone 6S and 6S Plus. They share the same screen sizes, but the new screens are 25 percent brighter than the 6S and display a wide color gamut. There is one difference, though. The new iPhones feature a "pristine, mirror-like surface" and a high-gloss finish.
New phones will be available in silver, gold, rose gold, glossy jet black, and a matte black color. Apple recommends getting a case for the jet black iPhone 7 because it's prone to scratches.
The iconic home button features a new version of the pressure-sensitive and Touch ID sensor. The button does not 'click' anymore. It simulates a click via a vibration like the Force Touch trackpad on MacBooks. Taptic feedback on the Force Touch Home button can be programmed via third-party applications to offer "new feelings and experiences."
Dual Cameras
According to the company, the iPhone 7 has a spectacular camera. But, in order to experience dual cameras, you will have to get the iPhone 7 Plus. But, before we get to that, let's start with the standard camera iPhone 7 is equipped with.
So, the camera on the normal iPhone 7 is a 12-megapixel camera. It features optical image stabilization, a 28mm wide-angle lens with a f/1.8 aperture, and a high-speed sensor that is 60 percent faster than before. The new camera is also 30 percent more energy efficient. The new image signal processor that is included offers twice as much than before. Even the True Tone flash has gotten an upgrade; now it comes with four LEDs that offers 50 percent more light. A new flicker sensor also adds artificial light, for brighter images in low-light scenarios.
The camera can detect bodies, faces, and it offers wide color capture. In addition, photos can be taken in the RAW image format which gives you more control when editing photographs.
The front camera of both 7 and 7 plus was upgraded to 7 megapixels, and it comes with wide color captures and automatic image stabilization.
And now comes the exciting part. The iPhone 7 Plus has a better rear camera. True, it is the same camera described above, but with one exception – it has another 12-megapixel camera right next to it. The second camera is a 56mm-telephoto lens with a f/2.8 aperture and its new built-in zoom feature is impressive.
When you take a picture, a 1x icon will appear in the camera. You can drag this slider from 1x to 10x. This will allow you to zoom into spectacularly detailed images for a better crop. The camera uses a 2x optical zoom, but it switches to digital zoom when you move closer to 10x. People who love photography will be thrilled to hear that Apple's camera engineers are working on a new bokeh effect that will add a blur effect to the backdrop of images to offer a depth effect that's on par with DSLR cameras. The feature will come later this year with the new update.
No Headphone Jack
Just because iPhone 7 and iPhone 7 Plus won't have a headphone jack doesn't mean you won't be able to use headphones. Instead, you will have to upgrade to a pair of Bluetooth earbuds or the new Apple AirPods. The AirPods are wireless and can run for five hours without recharging. Of course, they are not included in the box.
But, what is included is a pair of Lightning-connected (wired) EarPods in the box and a Lightning-converter for your 3.5mm headphone plug. Basically, you will be able to use regular headphones if you plug in the converter in your phone. The downside is that you won't be able to charge your phone and listen to music at the same time.
More Processing Power
The iPhone 7 and 7 Plus have Apple's most powerful processor ever made – the A10 Fusion. It's a 64-bit quad-core processor that's 40 percent faster than the A9 in the iPhone 6S and 6S Plus. Apple says it's 120 times faster than the original iPhone.
The first two cores are used for high-performance actions. The remaining two are for high-efficiency. Apple has designed a performance controller to determine which actions make use of either set of cores. The processor also improves the graphics, which are now 50 percent faster.
More power requires a better battery. The new battery is also improved and it is supposed to make the new phones last two hours more than the iPhone 6S.
Price And Availability
Now that you have learned all about the features, it is time to see if you will be able to welcome iPhone 7 or iPhone 7 Plus to your family. The devices are available for pre-order on September 9, and will be available officially on September 16.
The iPhone 7 starts at $649, and 7 Plus starts at $769. News related to the price are that for the first time ever 16GB storage is no longer an option. Instead, you can choose from 32GB, 128GB, and 256GB.